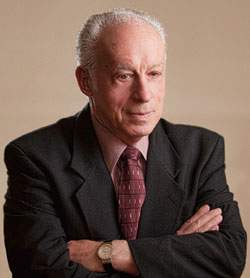 Founder Mel Kleiman's expertise is based on his experience as the former owner of three different businesses (including the largest group of Hertz Rent-A-Car franchise locations in the U.S.) as well as his subsequent 30-plus years of research, consulting, systems design, and training work to help employers implement effective and efficient employee recruiting, selection, and retention systems.
When Mel founded Humetrics in 1976, his vision was to provide common sense, easy to use, affordable versions of the resources and tools on the market for screening professional job applicants. His, heretofore underserved, market comprised the business owners and hiring managers responsible for hiring a frontline, hourly workforce.
Mel's passion for all things to do with hiring led to an on-going, complementary vocation as a Certified Speaking Professional on these subjects and he has made presentations to hundreds of clients worldwide. Mel's unique, laser focus and "uncommon common sense" approach to the hiring issues all hourly workforce employers face has been called upon repeatedly by clients of every size and industry.
Mel also serves as a board member for the National Restaurant Association Educational Foundation and for the Workforce Institute and has authored five books including the bestselling Hire Tough, Manage Easy.
For more information, call (713) 771-4401 or email Info@humetrics.com.
---
A Sampling of Mel's "Uncommon Common Sense"
"Hiring is only costly when it's not done well."
"If you hire a turkey, train a turkey and motivate a turkey, all you've got is a trained, motivated turkey."
"Eagles don't flock. You find them one at a time."
"Your people make all the difference. The only thing your competitors can't copy is your culture and your people."
"Employers get the employees they deserve."
"If they don't wanna work for you, nobody's gonna stop 'em."
"If all your competitors are drug testing and you are not, where will all the drug users apply?"
"Ninety-five percent of applicants come to the interview prepared to tell you only what you want to hear."
"There will always be enough employees, but never enough good ones."
---