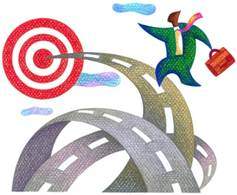 If you've seen any of my hourly employee recruiting, selection, retention presentations, you might remember I urged you to create a list of the Top 10 Reasons Someone Should Want to Work for Your Organization. It is a wonderful focusing tool that can help you recruit, interview, and retain talented folks at every level. (Besides, if you don't know why someone should want to work for you, how can anyone else possibly know?)
You can also reverse engineer this concept to get The Top Reasons Someone Should NOT Work for Your Organization and use it as a screening tool. What if, every time you made a job offer, you also gave the person a list something like the following?
Top Five Reasons Not to Work Here
You don't think it's important to be on time every day.
You'd rather go it alone than be a team player.
You need constant supervision.
You refuse to be held accountable and are a master of making excuses.
You believe that although hard work may pay off later, laziness pays off now.